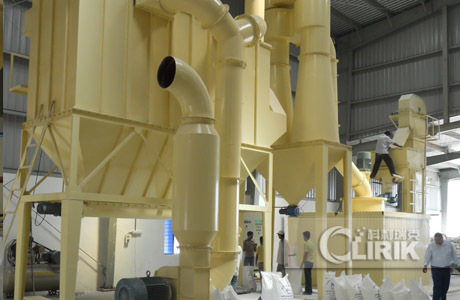 Micro Powder Mill
Product Code : 8474209000
Product Description
Micro Powder Mill is efficient grinding equipment with an optimum structural design which is widely used for making ultra fine powder. The mill is applicable to the processing of nonmetallic, nonflammable and non explosive materials with water content less than 10 percent and hardness less than 6 such as calcite, chalk, carbonate, limestone, barite, dolomite, kaolin, bentonite, talcum, talc, magnesite, illite, pyrophyllite, vermiculite, attapulgite, rectorite, diatomite, wollastonite, gypsum, alum earth, graphite, fluorite, variscite, potash ore floatstone, etc.
The mill is mainly a combination of feeding machine, main engine, grader, pulse dust collector, high pressure positive blower, electronically controlled device and other parts. Shanghai Clirik Machinery Co. Ltd is one of the leading manufacturer and supplier of micro powder mills. This mill is developed using advanced technologies and is very popular in the industry.
Features:
This Micro Powder Mill has lots of features and benefits:
Higher grinding efficiency with great motor power and lower power consumption
The output of the micro powder mill is 40% higher than airflow mill and whisk mill
Ultra-fine powder processing
Sturdy construction with a longer service life
Safe and reliable to use in the grinding activity
Intelligent control system
Environmental protecting, less noise and air pollution by the use of muffler and dust cleaner
Working Principle:

The powder mill rotates under the action of main motor and reducer. Raw materials, along with the elevator, spiral conveyer fall in the center of powder mill and next they move to the edge of the mill under centrifugal force. After being crushed by the hammer crusher, the large materials are crushed into small particles and are further sent to storage silo by elevator. The materials continue to move to the edge of powder mill and then it is brought to the multi-rotor powder concentrator by the airflow of high pressure fan. The powder which meets the requirements falls and exit from the discharging valve at the bottom which enters the dust collector along with airflow and clings to the surface of the filter bags and the ones fail, falls on the powder mill for re-grinding. The fine powder which has clanged to the filter bag falls down by sudden vibration which is caused by the instantly ejected high-pressure gas controlled by the pulse valve. The final powder is then transported to the bottom by elevator to get finished powders packed.
For more details of this Micro Powder Mill, you can contact us. CLIRIK will provide you with the best micro milling machine with perfect service and at a very cost effective rate.

Contact Us
No. 19, Fuqing Road, Pudong New District, Shanghai, Shanghai, 201201, China
Phone :86-21-20236178